SKATE PARK PUBLIC ART PROJECT 2019
Meet and Greet
Artist Miguel A. Del Real will be at the Skate Park Friday, February 22nd from 4 p.m. to 6 p.m. to visit the park, meet and greet skaters and promote workshop.
Learn more >>
Junior Skate Time
Junior Ride will be offered every Saturday & Sunday from 8:00am-10:00am, providing riders 12 and under the privilege to ride the park for two full hours. A parent/guardian must accompany Junior Ride participants and safety gear will be required, which are both established rules of the Park.
All participants:
Must pre-register by clicking here.
Must wear a mask in accordance with current LA County Department of Public Health Orders.
Maintain six feet of physical distancing.
Wear all required safety equipment (helmet, elbow pads, and knee pads).
Equipment will not be provided.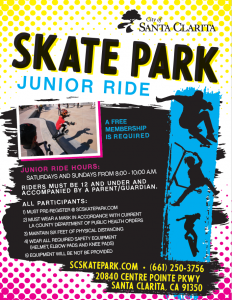 Skate Park Parties!
Interested in having a birthday party at the Skate Park? Party goer's will have exclusive use of the skate park, while enjoying their birthday food and festivities in the adjacent grass area.
 Please call (661) 250-3756 for more information regarding Skate Parties.
***Safety gear (helmet, knee and elbow pads) must be worn at all times while riding in the Skate Park. City staff will be enforcing this rule during Junior Skate Time and Skate Park Birthday Party Rental time.***